Tohatsu America Corp
670 South Freeport Parkway
Suite 120
Coppell TX US 75019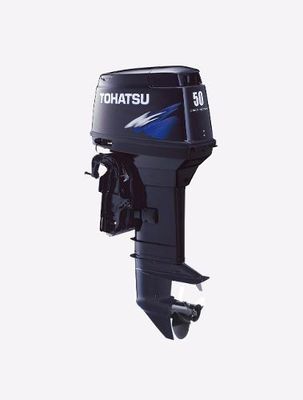 2019 Tohatsu MD50
N/A
Our 50 hp TLDI® outboard is leading the way in new technology! The Tohatsu 50hp TLDI® is one of the smallest outboards on the market with air-assisted, direct fuel injection. This outboard provides exceptionally smooth operation and outstanding performance all the while providing superior fuel and oil efficiency.
This outboard is every boater's dream. Tohatsu even won the Motorboating magazine's "Editor's Choice Award" for this new outboard! The 50 hp TLDI® is heralded as the outboard to buy for the 21st century!
We have added this new low-pressure air/fuel delivery system to our proven engine block to give you an outboard that is cleaner for the environment while also giving you the exceptional performance you expect from a Tohatsu. This engine provides lower oil and fuel consumption in a compact yet powerful outboard package. Our 50 hp TLDI® weighs up to 15% less than competitive 4-stroke outboards and meets all EPA emission regulations.
If you're looking for a tiller model, we now offer a multi-function tiller handle as standard equipment. This tiller handle includes all controls conveniently located on the handle for easy access giving you more control, better maneuverability and increased safety.
The 50hp TLDI® combines award-winning technology with proven dependability to offer you this truly unique outboard!